When it comes to choosing wedding hair flowers your choices can seem endless and daunting.
Especially when trying to plan your wedding months in advance.
We have put together this guide to wedding hair flowers to help give you some inspiration and ideas.
Our aim is to put you on the right track to choosing the best flowers to compliment your style.
So without further ado, let's get started then shall we?
Choosing Hair Flowers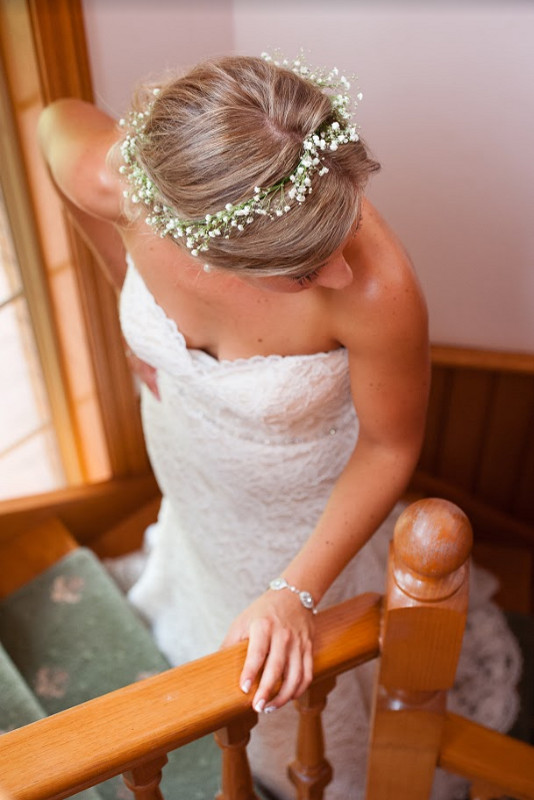 Firstly, you have to think of the theme of your wedding.
If you are going to have a rustic outdoor theme you wouldn't be looking at having your hair slicked back with flowers and diamantes.
Instead, you would lean toward a halo or have a loose plait with single flowers placed between each braid.
Once your theme is worked out, you then move onto choosing colours and types of flowers that you will be having in your bouquets so you can match them to your hair flowers.
Another thing to keep in mind is the time of year.
If your wedding is in the hotter months, try to choose a flower that can stand up to the heat.
Orchids or gardenias will handle the heat, whereas hydrangeas will struggle. You don't want drooping flowers for your photos!
And finally, you have to consider the length of your hair.
More on Wedding Hair Flowers
If you love large flowers like peony roses, sunflowers or lilies, you would need to have a lot of hair to help support them.
You'd have to think about an up-do or a thick plait so the flowers don't look too big or worse yet, fall out or start to drop down.
Alternatively, if you have shorter hair you can choose a smaller flower like gypsophila or easter daisy that won't need that support.
Or we can create a beautiful halo of flowers that looks stunning from every angle.
We'd be more than happy to have a chat with your hairdresser if you are struggling for ideas.
Between the two of us, we'll ensure your hairstyle and wedding hair flowers look amazing and last throughout the day.