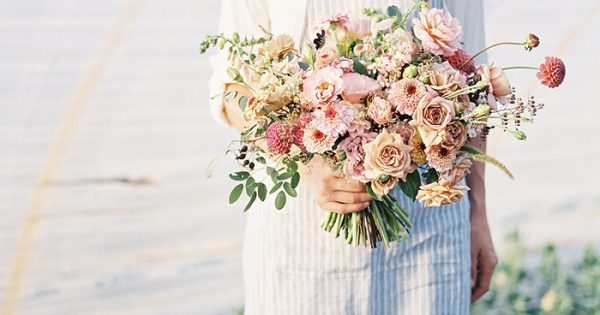 The in trend for this wedding season is definitely the unstructured, bohemian style, big bouquet.
A little messy and whimsical, the big bouquets certainly make a statement as you walk down the isle.
It's not just the size of bouquets that has changed this year, but the colours are becoming more daring and bold also. A Burgundy/blue and white mix being the most popular so far.
While your flower choice is varied, the Rose still seems to be winning out, especially the peony and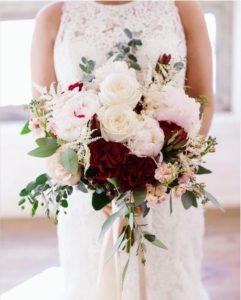 David Austin varieties. Their big open blooms accentuate the size and volume of the bouquet while still giving it that delicate look. Roses also come in nearly every colour which gives you a lot of options. Dahlias are also stunning and quite popular but only come in autumn tones which can limit your colour pallet.
If you are in love with the big bouquet but are afraid of the extra cost of having to fill it, we suggest using a ratio of 50% flowers and 50% foliage. This will significantly drop the price while still achieving the same look. Or, if you don't love greenery, we can leave the flowers to open out fully to help bulk up the bouquets.
The big bouquet will suit most brides, but just be mindful if you have a petite frame, sometimes the bigger bouquets can take over and swallow you up. To combat this, choose only a few bigger blooms and compliment them with smaller flowers and delicate foliage.
Another benefit to the bigger flower is that you only need one or two as a centrepiece for the reception flowers. Small jars filled with foliage and two bigger flowers look stunning yet simple and will keep the costs down as well.
So don't be afraid to go big with your flowers this year and be daring with your colours!